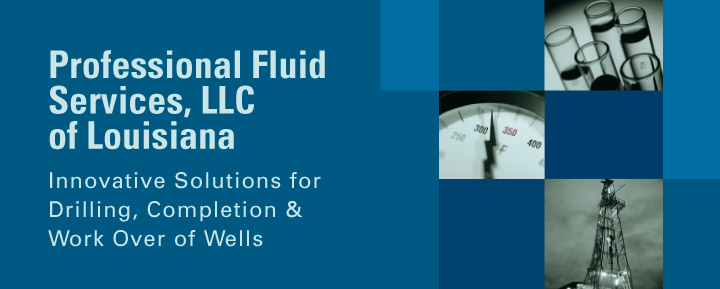 About PFS
Professional Fluid Services, LLC. A World-Class Drilling Fluids Company Since 1999, PFS has specialized in the creation and manufacturing of innovative drilling fluids technology.
Since 1999, Professional Fluid Services has worked shoulder to shoulder with operators and technology providers to clearly define drilling fluid scenarios, identify operational gaps and custom-tailor technologies designed for a full spectrum of applications. Utilizing extensive knowledge in the foundations of drilling, workover and completion operations, we craft efficient, cost-effective solutions that minimize lost time and increase operational effectiveness throughout the life of your well. In addition to our suite of innovative drilling fluid products, Professional Fluid Services also offers the services of our experienced technicians, who can provide field support, operator training and testing services.
PFS's line of products, which include additives, cement spacers, sealants and other high-tech, customizable solutions, are made in America at our secure warehouse and manufacturing facility. All products are lab tested per a strict QA/QC protocol, and each bag, pail or tote is stamped with a QA/QC number and samples are retained for two years. All products are proprietary, patented and are trade secrets.
Drawing on our formidable experience throughout the world, PFS's technicians can provide field support as well as training to operators. Through our partner network, we also provide testing services.Please contact us to learn more.
Contact us today to learn how our drilling fluid technology can improve your production capacity.